That title is for myself more than it is for you, but if you're struggling with it too, good enough is good enough love.
After sanding floors every day for just over a week straight, I am finally at a point where good enough is good enough and I am moving on to sealing them. That means my progress picture looks about the same as last week so I'll spare you the repetition and let this be the segue into the vlog style update video that I did…
We are at the halfway point of this refresh challenge and I'm kind of in a dangerous spot right now. Work always ends up taking longer than it seems like it's going to. So any confidence I have in saying, "the rest of this will be easy," is backed by the guarantee that it probably won't be easy. I do still have to put a bunkbed together. And it's the single most important piece of this room to the 5 year old who will use and enjoy this space (only beaten at first by a smidgeon by the toad terrarium and fish tank).
Week 1
Week 2: Still finishing the floors.
Week 3: Wrapping up the floor refinishing, bringing in and assembling furniture.
Week 4: Hanging wall decor and light fixtures. Make the bed. Hang and pot plants. Put all of the toys and clothes in their place.
Week 5: Reveal!
But I do have access to amazing sponsors as a featured blogger of Stephanie's New Year New Room Refresh Challenge. Stephanie is the blogger behind Casa Watkins Living. And simply introducing her as a blogger undervalues what exactly she does by a landslide so let me also include that she is an amazing interiors photographer, impressive photo editor, creative mastermind of DIY projects, talented designer and there really are so many more admiring things she does just at this blogging gig but to sum it up, she's an inspiration and I thank her for letting me partake in this baby of hers.
Back to the sponsors…
This year, we could work with these brands to help make our refresh dreams a reality: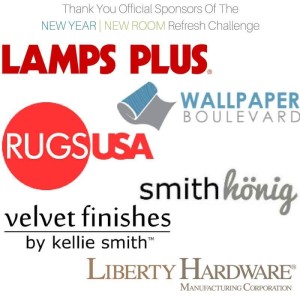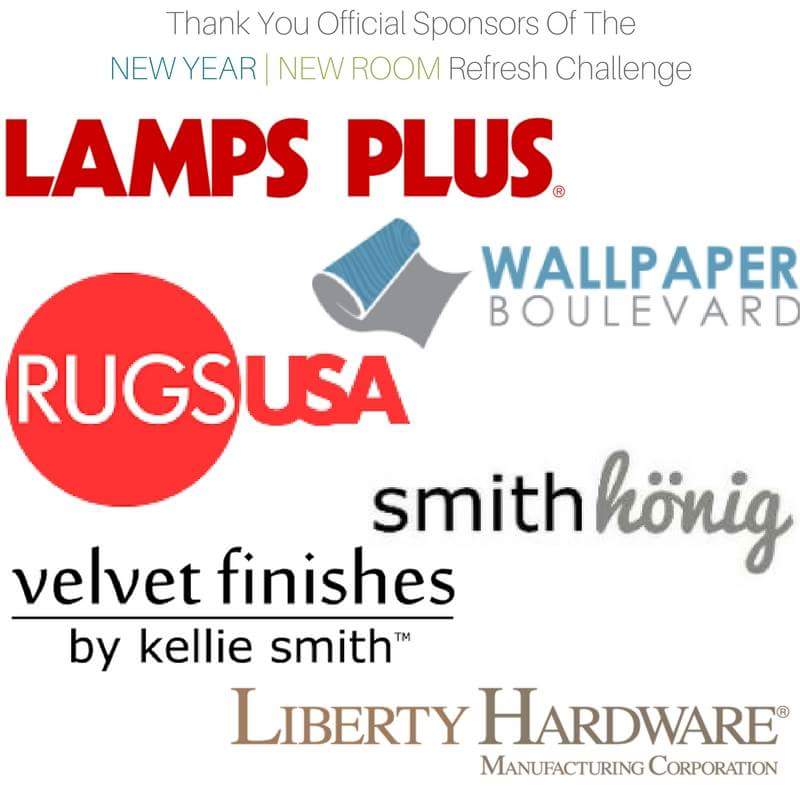 I am not confident I can teach myself to paint furniture, but I have seen the Velvet Finishes paint swatches and those colors are gorgeous enough to make me consider it! But after all the sanding, I don't think I can squeeze in a painted piece of furniture, too. My favorite colors are exotic, boheme, tranquil and baroque if you're looking to paint a piece though! They're gorgeous and very boho. Check out all of the colors in the colour gallery.

Along those same lines, I am not up to the task of wallpaper even just a single wall. Wallpaper Boulevard has basically every wallpaper available in all of existence. That's hyperbole, especially as I am a wallpaper novice and have no idea of the accuracy of that statement. But, the selection is absolutely massive. The kiddo asked for a jungle theme. If I had the funds to pay someone else to do the wallpaper, I would have chosen either the alfresco green palm leaf or the tangle wallpaper.

I've slowly been working my way through the house to change out the switchplates and outlet covers to nicer ones in a black finish. I prefer the look of accenting the hardware instead of making it disappear into the wall color. This room hasn't been done yet, so I've chosen the architectural wall plates in flat black to compliment the look I have going in the rest of the house. I also picked out a single knob, this one, to bump up the aesthetic of a little side table I've picked out. You can check out the liberty hardware line at most retailers including Home Depot and Amazon, but the store locator can help you pinpoint a location, too!

A company I was introduced to through this challenge is SmithHonig and they are a mecca for really unique boho eclectic decor. I found the framed moroccan knot on canvas art piece especially beautiful with all the different colors to pull into a room. Their one of a kind pillows, like this velvet ikat lumbar, are a global junkie's paradise. And we are smitten with this yellow velvet pillow with colorful tassels. He never says that his favorite color is yellow, but my kid has been drawn to it since the day he was born!

RugsUSA needs little to no introduction as their rug selection is massive and they always have loads of options to choose from no matter where your aesthetic lies. We've chose the Nomadic Revival (I just love that name so much!) and it's primary color appears to be a pretty teal/navy but has lots of really fun color pops to pull from. Since the floor space will be small what with a gigantic bunk bed entering the space, we only needed a small rug but I took that opportunity to make it a big impact.

I really enjoy the variety that Lamps Plus offers. Their lighting selection is massive with styles and finishes for days. I'm going with bronze and brass as the accent metallics in this space. The ceiling light is the burlap drum shade and it's super attractive yet hardcore budget friendly. The second one that comes in the set is on hold to go into the spare bedroom when I clear out enough floor space to get it up. For light from the beds, I'm going to use the Hobson bronze and brass plug in sconces. One for each bunk to swing in when needed but swinge out to make room for getting cozy under the covers. I am smitten with this really cool brushed brass accent lamp and I think it'll be the perfect pop of masculinity for the space on the dresser. Revisiting that little side table I mentioned earlier, I think this will be perfect for holding a few bedtime stories and a glass of water without taking up too much more floor space. Since a lot of play happens on the floor, I thought this linen pouf could be a durable and gorgeous choice. And remember how he mentioned he wants lots of plants? Well, I found the perfect plant stand in a bright natural wood finish and carved details for a bit of sophistication.
Even though some of the items coming into the space have been provided to us, I still carefully choose each piece to make sure it will not only be perfect for this room in this moment of time, but that it will be something we can use as he grows and/or elsewhere in the house. It's just one way to be a little less wasteful. All of these stores have items that are beautiful and versatile and I think those are important features to look at when shopping for home goods.
Alright, that's enough jibber jabber out of me. I hope you enjoyed the quick video update. Please make sure you 1. take the time to visit the other featured bloggers because the inspo is fire and 2. link up progress you've been making on a space you're working on in the widget below!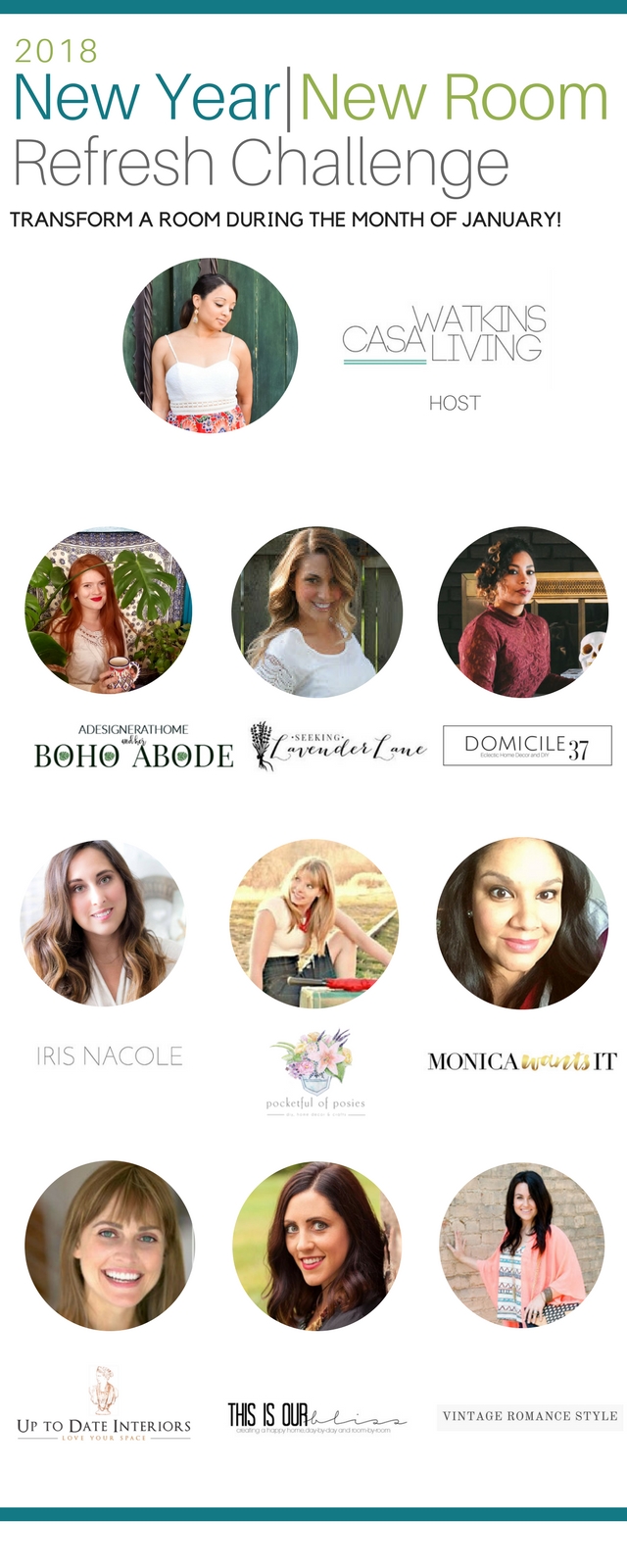 Casa Watkins Living // A Designer At Home // Seeking Lavender Lane // Domicile 37 // Iris Nacole // Pocketful of Posies // Monica Wants It // Up To Date Interiors // This Is Our Bliss // Vintage Romance Style