Hey, hey, hey!
It's a brand new year and that means we are going to start things off with a room refresh. That's right, if you've been around here for a while you already know it's New Year, New Room Refresh Challenge time 🎉
Unfamiliar with the challenge? Every January, Stephanie of Casa Watkins Living invites design bloggers to refresh a space in their home, sharing their progress on Tuesdays throughout the month of January. This year, she's even opened up a link up for each week so anyone can join in and share their progress.
What Space Am I Refreshing?
Well, remember a while back when I mentioned my son was finally getting his big boy dream makeover? The holidays hit and besides getting the walls painted, it's not been touched.
What Is The Size Of The Room?
12 feet x 8 feet 8 inches
Why Did I Chooose This Room?
Two years ago I did our hallway for this challenge. And I chose my hallway because it takes up a lot of the space in our home, except that it never got the attention space in other parts of our home gets. I wanted it to be a joyful experience to be in here even if it is just the space to other spaces .
But the bathroom and our bedroom are the only spaces that have been decorated to our style past the hallway (the office has gone to the wolves). It was definitely time to add either the youngin's room or the office to this list of acceptable spaces.
Then last year I chose to complete my dining room. And it completely changed the way we used that space. We never touched it before. But now we are in here all the time and we really use the space.
And that got me thinking about how a lot of other spaces are used to store the youngin's things because his room is in design limbo right now. So it became clear it had to be bumped up to first priority.
What Are The Needs?
The space needs to be a comforting place to sleep, storage for clothing and a place to organize childrens books, toys and games.
What Are The Wants?
He wants a new pet, a tv, a bathroom, microwave, mini fridge, a jungle and shell chandelier and… well, you should just watch the interview below 😂
What Does The Space Look Like Now?
You may want to skip this… It looks bad!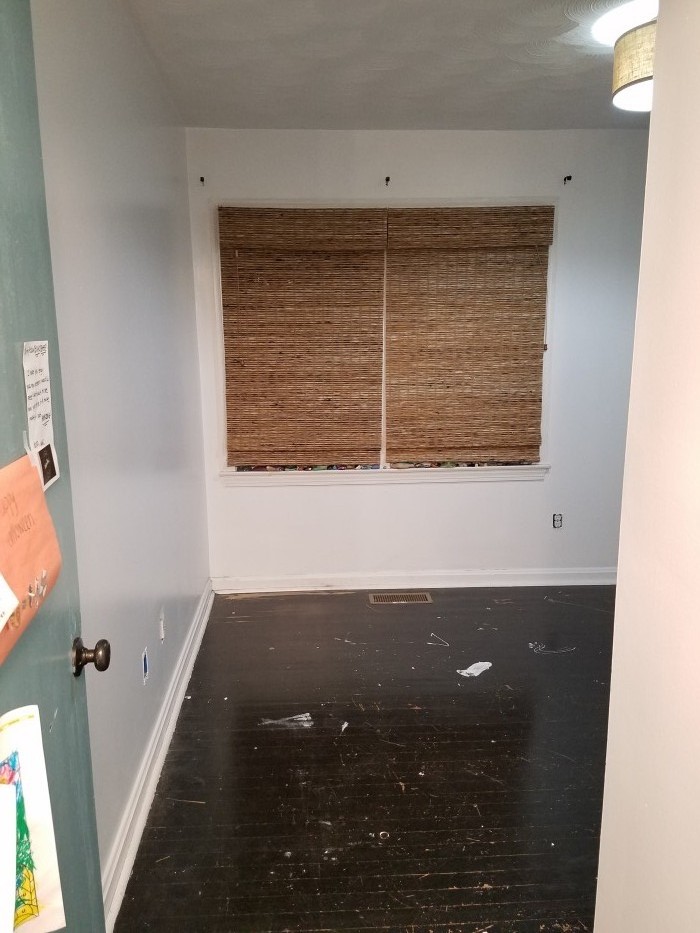 What Do We Want The Space To Look Like?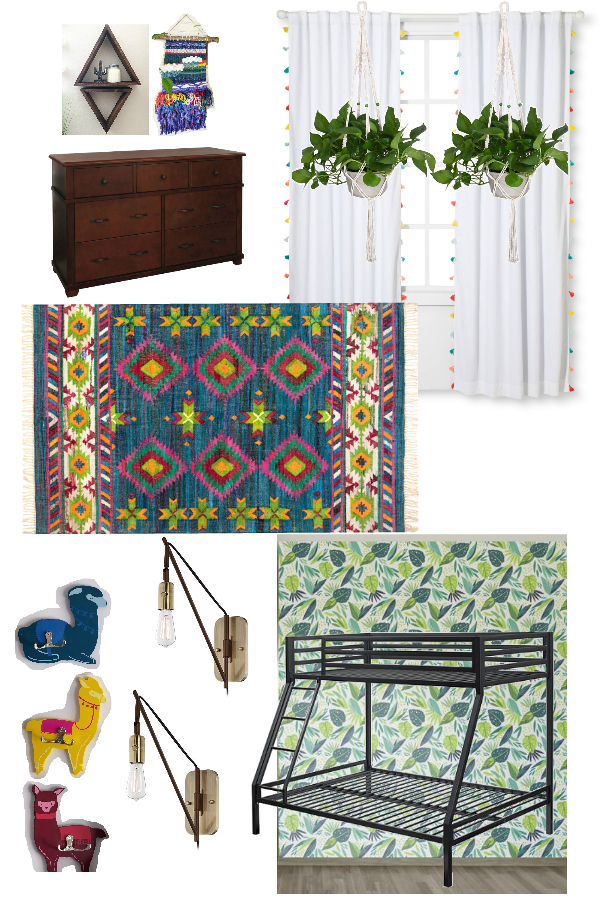 Light Blocking Tassel Curtain |  Bunkbed | Midrib Wallpaper |  Sconce | Rug | Hanging Planter |  Dresser | Wall Hanging | Triangle Shelves | Pillows
What Is The Work For Each Week?
Week 1: For the first week of the challenge, I'm planning on touching up the paint, sourcing the remaining decor for the room and refinishing the floors. The floors are an embarrassing testament to a period of time where I loved what I was seeing in old homes and reading too many DIY blogs that made me think I was capable of refinishing floors. Honestly, I wish I'd never touched them because the stain job was so.. so bad.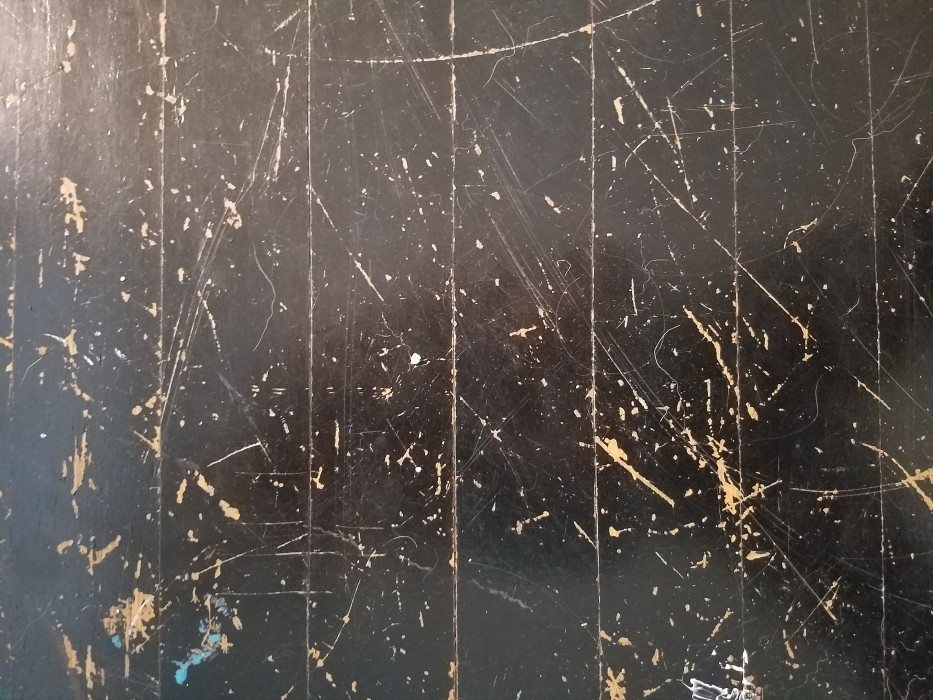 Week 2: Possibly still finishing the floors. I'm hoping to thrift or hard core deal search for some things because post Christmas budget woes 💸 So I might have a smidgen more to do here, too. Ideally I will be starting the bunkbed assembly and be bringing in the other furniture.
Week 3: If it takes more days than I anticipate fixing the floors, this week I'll be putting up the bunked, bringing in furniture and hanging art/lights/curtains
Week 4: Hanging wall decor and adjusting any fixtures. Make the bed. Hang and pot plants. Put all of the toys and clothes in their place.
Week 5: Reveal!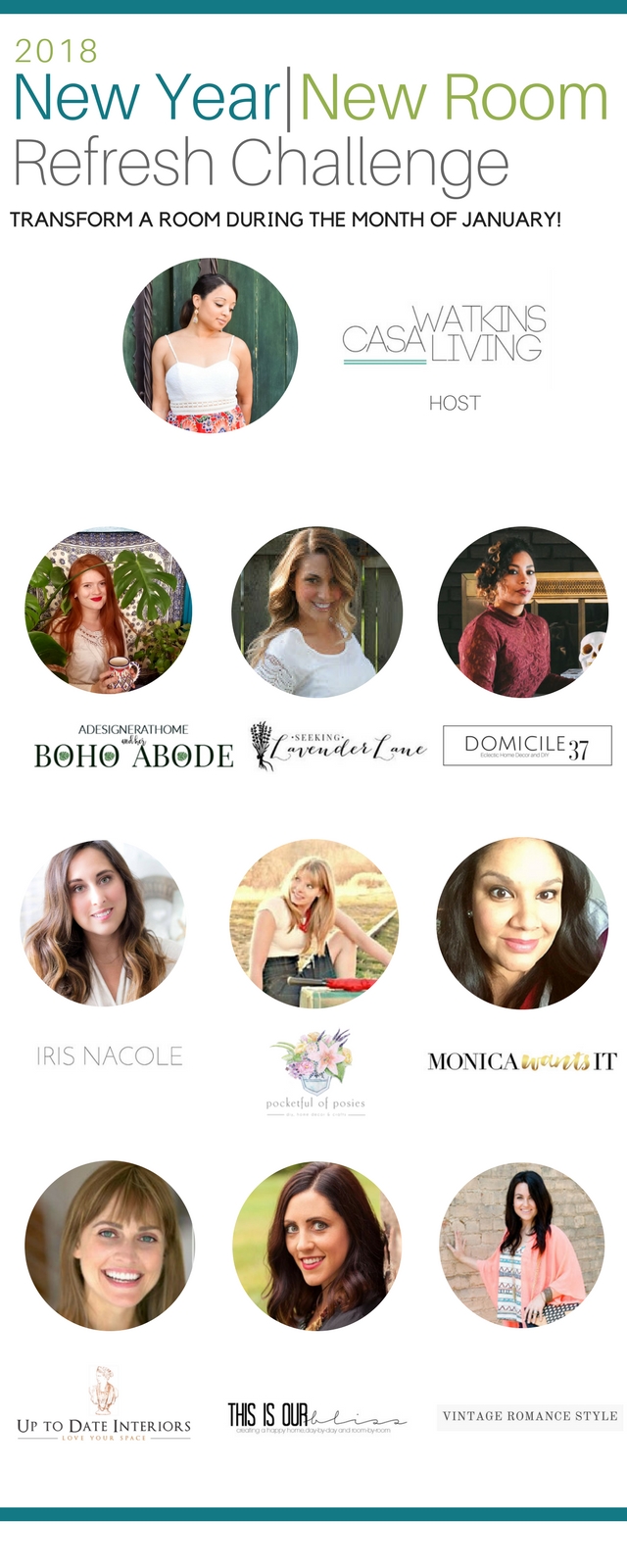 Now that you've seen my starting point and our goals for this refresh, you'll want to check out these other refresh projects, too!
Casa Watkins Living // A Designer At Home // Seeking Lavender Lane // Domicile 37 // Iris Nacole // Pocketful of Posies // Monica Wants It // Up To Date Interiors // This Is Our Bliss // Vintage Romance Style
Now, it's your turn!  Link up your own room progress below.  We would love to see them!
* Please do not link up any posts not related to the New Year New Room Refresh Challenge. *