It's been a week since I announced my participation and plans for a curb appeal themed challenge. My curb appeal sucks. And so I'm hoping to do my best to get the area looking as better as I can get it in a matter of a few weeks.
It's been raining nearly nonstop since last Tuesday. What a bummer! We did manage to get the bushes removed. It's strange how much bigger the house looks without them. Don't get me wrong, it's a small house at 1,200 square feet, but it's a strange illusion nonetheless.
Since there hasn't been a whole lot else going on besides removing the bushes, I figured I ought to share exactly how we did it. We knocked out 6 bushes and 4 trees in less than an hour (we only removed half the stumps though, so there's that additional time we still have to put in). There was a lot of sweat, so the rain shower we received just after was welcomed.
How To Remove Bushes:
These bushes were shockingly massive. It took taking them out and seeing how much yard they took up to see just how big they really were.
First, we used bypass loppers to expose the base of each bush. The branches were long do to make it easier to cut through the base of each bush, we used the loppers to cut off the lower branches so we could reach with the reciprocating saw.
Once the trunk was exposed we cut through it with a reciprocating saw (as I just mentioned). This just helped us cut down on the amount of branches we had to work around to get to the trunk.
Then using a digging shovel we worked our way around the base of each bush, occasionally pulling out the axe to cut through especially thick roots.
The rain was coming back over us so we only did the side we plan on doing the patio. But here's the before and after!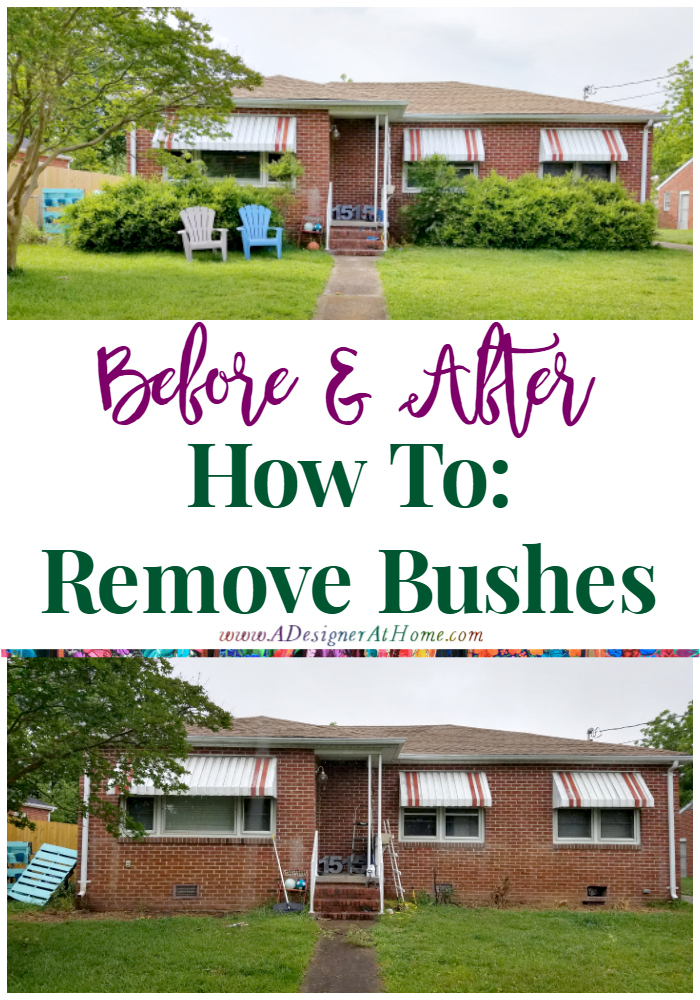 In The Next Week:
What I hope to accomplish this next week is getting the patio set up. I'm not following traditional instructions for getting this put in because I'm lazy and our soil is tough with very thick grass.
The plan is to use these two products:
I'm also hoping to get a tree planted on the other side of the yard, a new mailbox installed, and I want to start working on a cute house number + planter project. Still lots to go! Pray this rain lets up for me, will ya?
Check in with the progress on the other's blogger's curb appeal projects here: