1950's Bathroom Before | Vintage Bathroom Obsession
Participation Announcement | Design & Function Decisions
Towels on Fleek | Choosing Fabric Print for Shower Curtains
Bathtub Surround Tile Decision | Bathroom Decor Purchases
Laundry Basket with Tassels | Choosing Floor Tile
Bathroom Vanity Lighting | Week 4 Demolition
Week 5 Progress Report | Sink Faucet Dilemma
So guys, today is the day. It's Calling It Home's One Room Challenge reveal day. And I have no finished bathroom to reveal. It would be un-human of me to claim this wasn't some kind of learning experience. These things always are a learning experience. I've never lived through a bathroom renovation before.
I've never selected lighting and tile. I didn't know there was a difference between a left and right hand tub (though it's existence doesn't boggle my mind in the least, it just wasn't something I had ever thought about). I had good and bad craigslist encounters in this adventure, I had the chance to work with some awesome companies (MOEN, Jeffrey Court for Home Depot, STAINMASTER, LampsPlus, DecoART, Purdy, HomeRight and Minted), I've learned so much about a neighbor I barely greeted before. This whole experience has been phenomenal.
I did not finish my bathroom remodel in 6 weeks. The first 2 weeks were spent on the design, the second two weeks were spent sourcing most supplies and a contractor, and the past 2 weeks were spent on the actual work.
If I were to do this again, I would preplan some aspects and purely spend the 6 weeks on the actual labor. 
So what did we get done?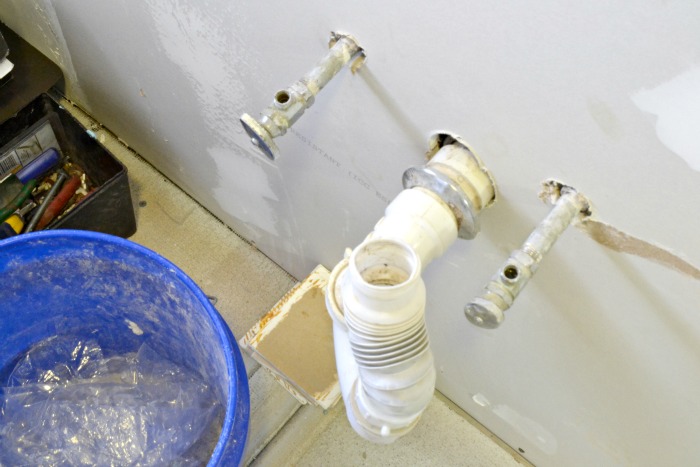 The bathroom was completely gutted. A layer of the plywood floor was taken out to even up the floor with the hallways. The walls were removed down to the studs. The toilet, sink and tub were removed. We did have a lead test since our home was built 1954.
Then we had the walls insulated and drywalled. An electrician came in to move the wires for the vanity lights, fix up some of the mess left from a previous baseboard heater, and run a line for the hot water heater we're putting in our pantry (I have an "interesting" post coming up on that!). The pipes for the tub had to be reworked to accommodate the new fixtures. The floors and shower surround have durock and our awesome contractor put in a nice big 2 level recessed nook for all our shampoos, conditioners, soaps, etc.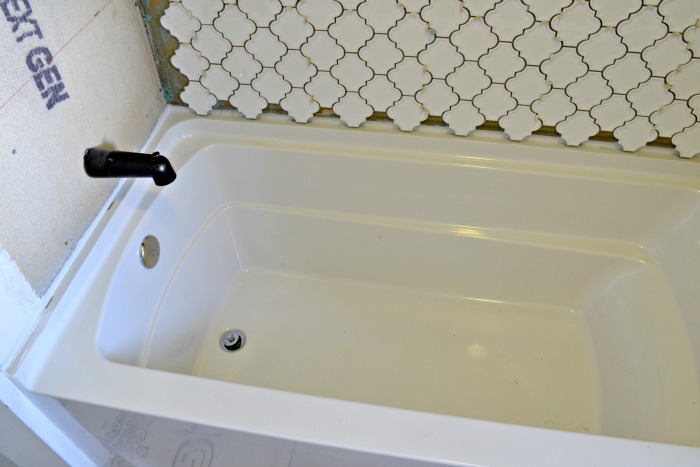 A couple nights ago we had to find 2×6 and 6×6 bullnose tile that matched the tub wall tile. Can I just sarcastically ask who's bright idea it was to name a warm leaning white tile "snow?" They look beige against a true white tile. So we shelled out a couple hundred dollars from The Tile Shop to order matching bullnose tile. This combined with the tub fiasco has set us nearly a week behind schedule.
I bought a lot of pretty things for the space and I figured the next best thing to showing a finished space would be to show the unfinished space and a few pictures of all the pretty things that I picked up for the space. Here they go!
And here's a last look at the last dreamboard I created. With the holidays creeping up, I'll be slowing my pace down, but hopefully sooner than later the bathroom will look a little something like this!