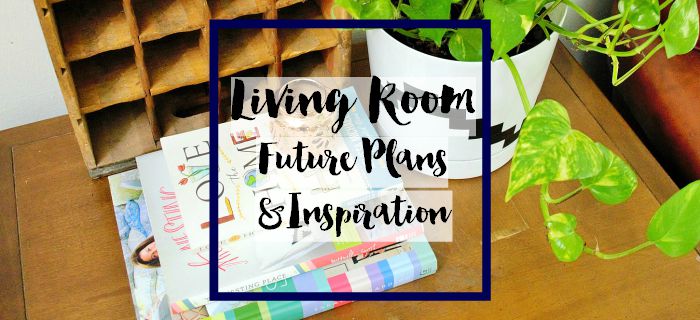 Hey Guys!
I'm sure it's a feeling you've felt before. Perhaps you even feel it all the time. You've decorated a space, announced it as done, but know there are a ton more things you want to do with it. Or maybe you don't ever declare it done because you have all those other things running through your mind. That was me up until recently. Over the course of the past month I've taken you through my living room. I've shown you the furniture in there, the things I've made, and some tips and ideas along the way. But the space has been far from done. And, if I'm going to be completely honest, I've already been switching things up. I'm not going to spend eternity talking about and focused on one room though. Especially since we've begun a bathroom renovation that I hope to be sharing with you in the Fall.
The next finished space I want to share with you in our main bedroom. There is no master bedroom in the space so it's the "biggest bedroom," but before I get there I wanted to talk a little about my future plans for my own living room. I don't know about you, but I personally feel a bit relieved when I write or type down my ideas. It gets them out of my head and into a place I can reference back to later. This is that space and that's what I'm doing.
One thing I've already done is flip the layout. So if you see picture on Instagram of Facebook and you're wondering why it looks different than what I've "revealed" here, that's why. But, like I said, let's not beat a dead horse and just know that the couch and TV has switched spots.
Behind the sofa I really want a console table. I've played around with the idea of using a simple system with a plank of wood and shelf brackets. What I really want to do, and what I'm aiming for, is to line that bit of wall with short bookcases so I can style the top, have seasonal decor storage behind the sofa, and have space for more books and toys on the shelves that hang out on either side of the sofa.
I also really want a tall campaign style lingerie chest/tall dresser. I'm obsessed with storage and ages ago when I saw my idol, Emily Henderson, put one in her living room, I knew I had to do the same.
I've probably mentioned it before, but my dream is to take down or open up the wall between the living room and kitchen. My gallery wall would have to go (not nearly as sad about that as that may have come off), but I think a nice island or peninsula here would make a really great family interaction flow.
Underneath the large wall of windows I have a gold bar cart. I think it looks a little silly in size in this spot and I'd like to pick up something more scale appropriate for the wall. Maybe even adding in more seating with a loveseat or sofa (vintage, of course, and awesome, of course). Or a trunk for more toys?
I've been stuck on the fence over my sofa situation. I LOVE my sofa. Like, a lot. But I also really love the look of a plush sofa covered with drop cloth or loose fabric or a coverlet. I picked up a coverlet a while back for this purpose but I can't do what I want with my current living room sofa. But I could with the one I've banished to the garage (it's mint in color and absolutely destroyed with stains from the little one, irrelevant if I'm covering it up though). I find both to be comfortable, it's really just the aesthetic I'm struggling with.
Do you own a vittsjo shelf? I'm obsessed with their simplicity. I had always planned on putting one in our only bathroom, but it's a tight squeeze in there already. So I'm thinking of flanking our credenza with two of the skinny units. More space to decorate, more storage, and it fills up blank wall? Where's my credit card… I think I'd want to give them a finish like the shelves below have.
And one final idea for the space: Right now I have the bentwood rocker in the corner of the living room. I never wanted it in the first place but had to buy it for the bentwood foot stool I actually wanted. So I'm going to clean it up and put it on craigslist (email me if you're interested!). I've got a rattan armchair I'm going to pull in that I had banished because I didn't like it's cushions until I threw a Mexican blanket over it. Thank God I hoard things I sporadically love and hate, amiright?
So that's where I'm going to wrap things up with the Living Room. The only other space I've decorated is the "main" bedroom, so I'll start sharing that next! And then we will hopefully be ready to start chatting bathrooms! We've already started demo but it's going very slowly… Have a great day!