On June 1st, we're going to begin our first official photo a day challenge. I know what you're thinking, those can be difficult to keep up with. And yes, they can. The hardest ones I've tried to keep up with were either too vague for me to think of something to post or the overall theme of the challenge wasn't my personal aesthetic. There's room for the boho babes to play along too.
I've tried to make the prompts simple and specific enough that you won't be lost for what to post but that you can also put your own spin on things. Of course you can always recycle old pictures and post them new. I wouldn't expect you to work in a pristine picture of your living room if the day for living room is the worst day of your life. My goal is that we can build community, get creative and see the beauty within our own boho abodes. So you're probably anxious to see the prompts, so here you go!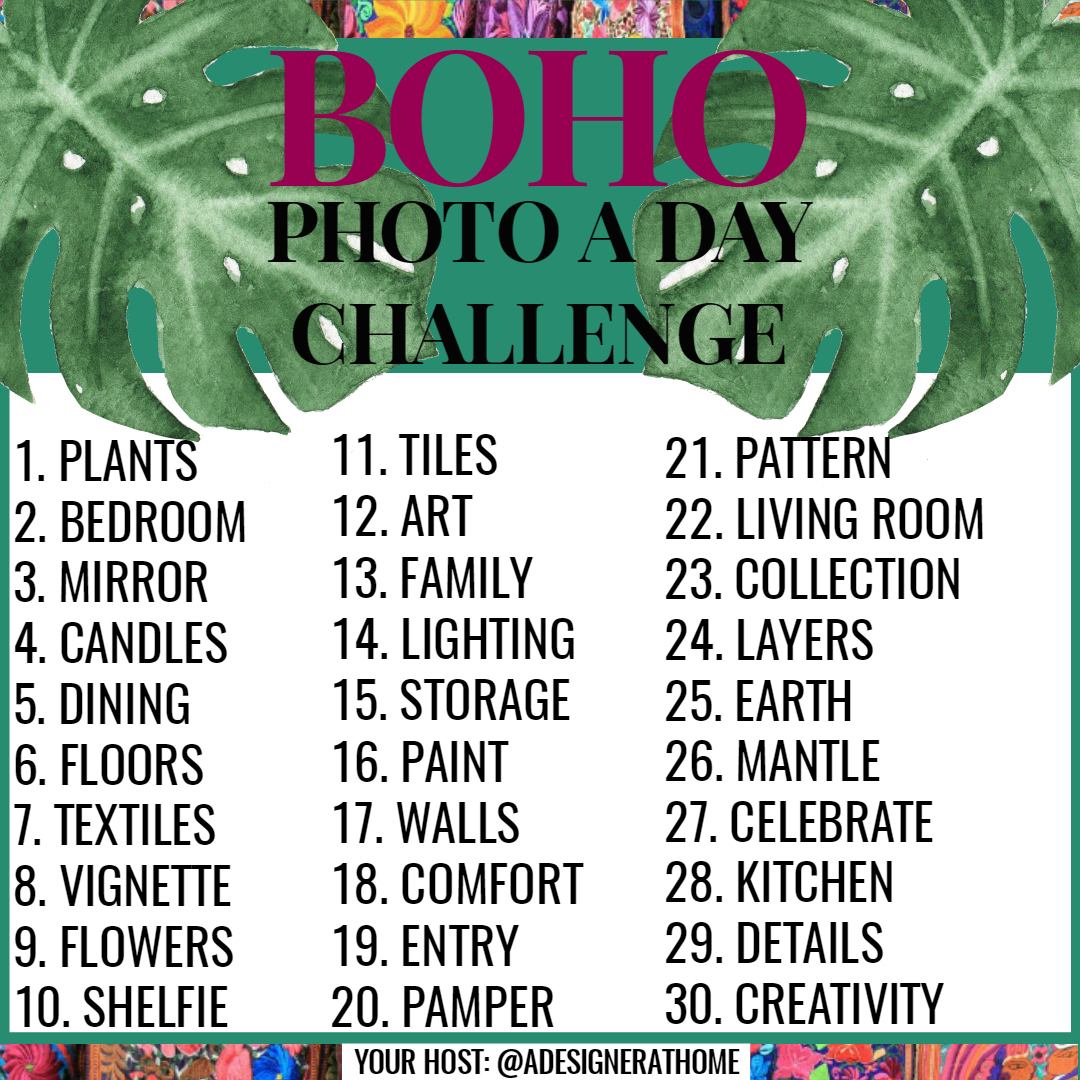 Again, the challenge will begin on June 1st so you've got a couple of days to start thinking about the prompts and how you may be able to play along. It's probably helpful for many of you if I explain a little bit about why I chose the prompt for each day and a loose vision for what you can post.
Here we go!
Plants are the bees knees right now. And they have a perfect place within a bohemian style home. Show off what plant babes you've got. Whether small or large, show off how you display them, water them, enjoy them.
A messy bed freshly risen out of, the books on your bedside table, the way the light shines on your dresser. Show us the whole space, a favorite spot in the space, or how you like to enjoy the space (PG, of course).
Catch a creative shot of your room through your mirror, how you use a mirror in a vignette or on it's own, or simply share a mirror selfie.
Whether you're team light them or use them strictly as decor (or use LED ones!), candles create ambiance and fill out decor. Zoom in or zoomed out, share a shot with a candle.
Interpret this one to mean a dining room, a space you dine, a night out dining, your dinner, the space you prepare what you dine or what you dine on! Photos of dining rooms, to food to plates and more are welcome this day.
You've probably got at least one spot in your home with dreamy floors. Aged planks to tiled floors to gorgeous benis, show off how you dress up the space beneath your toes.
What good boho space lacks textiles? None I tell you! Any room, any textile, show it off! I love carpets, rugs, blankets, pillows, wall hangings- them all!
Everybody loves a good vignette. Doesn't matter whether you go all in or keep it simple, show off a surface of your home you've styled.
You know what they say, treat yo self! Plucked from the roadside, picked from the garden, painted, embroidered- you name it! Doesn't have to fresh flowers to be shown off. Show off anything with flowers.
Show off the fabulous things you've gathered shelfie style. Shelves on the wall, bookcase, china cabinet, or surfaces like a media cabinet, nightstand, or kitchen counter. Doesn't have to be elaborate, but also have fun!
Everyone who doesn't have the dream kitchen and/or bathroom they've always wanted is going to roll their eyes, but don't! There's loads of fun ways to jazz up existing tile. Then there's tiled furniture. Or even decorative tiles you've got on display. Don't dismay. There are loads of ways to interpret this prompt beyond the immediate thought. Even the tiles in a favorite restaurant works!
Art is open to interpretation as well. If you've made it, we want to see it. If you bought it, show it off! Downloaded it and framed it? That totally counts, too. Art means something different to everyone so show me what it means to you.