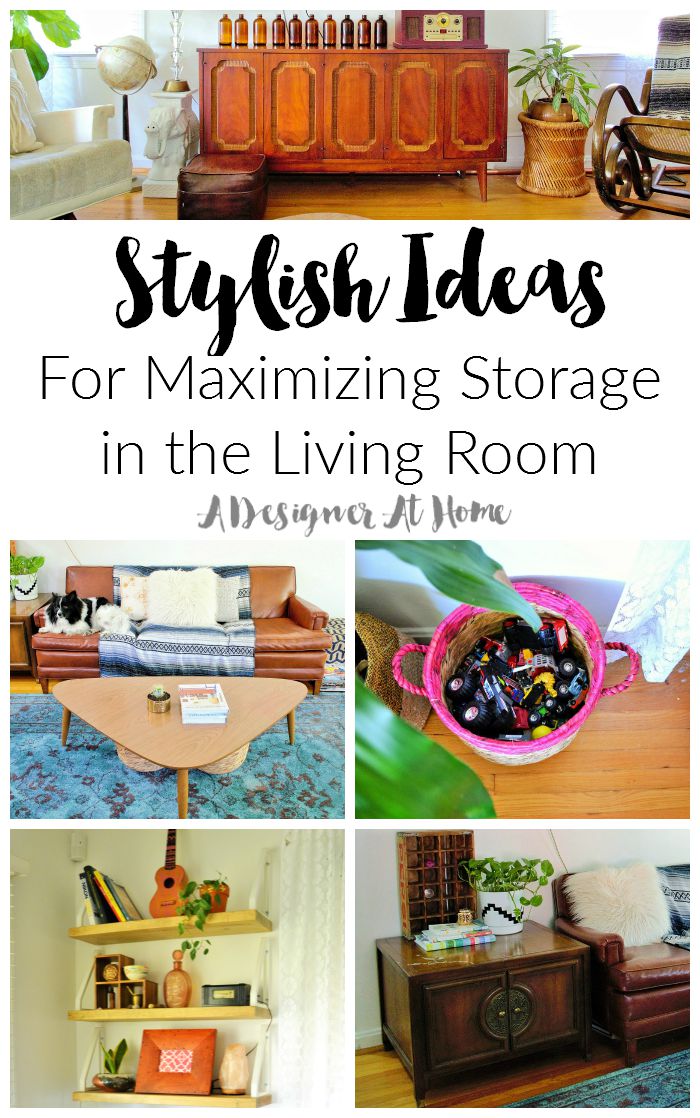 Hey Guys!
I LOVE finding ways of stretching the space in our small home. I'm a borderline hoarder and I have a 3 year old son who loves to shop (yes! really!). So I've got to find ways of hiding my growing collection of glass bottles and my son's growing collection of Matchbox cars. I like to toot my own horn a little bit on this subject because I think I've done a pretty darn good job of fitting in lots of storage while still having a cute space to hang out in! Let me share what I've done to capitalize on our small space as well as some fabulous ideas from the blogosphere!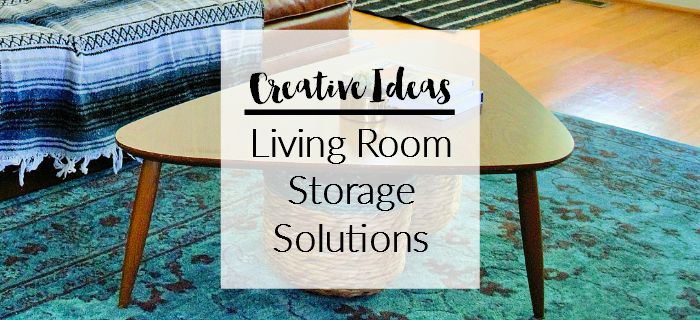 First and foremost, I love baskets. I think every self proclaimed decorator loves baskets because they really are an amazing piece to add to a room. Big baskets sit fine on the floor and small ones fit nicely atop shelves and under tables. I use baskets to store train sets, matchbox cars, legos, decorative items not in use at the moment and media "junk." But you know, anything can go into a basket.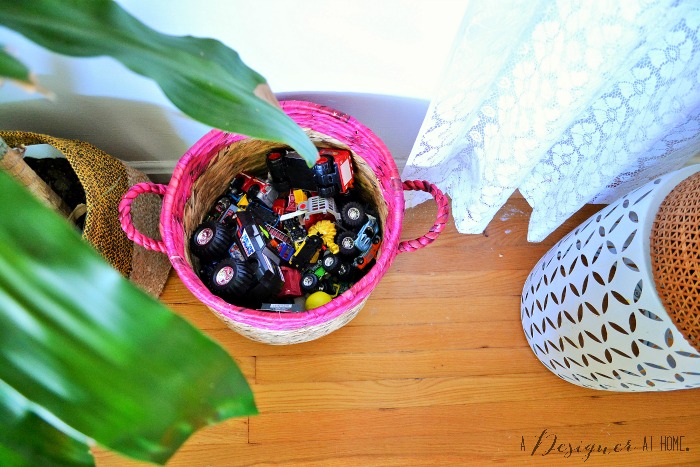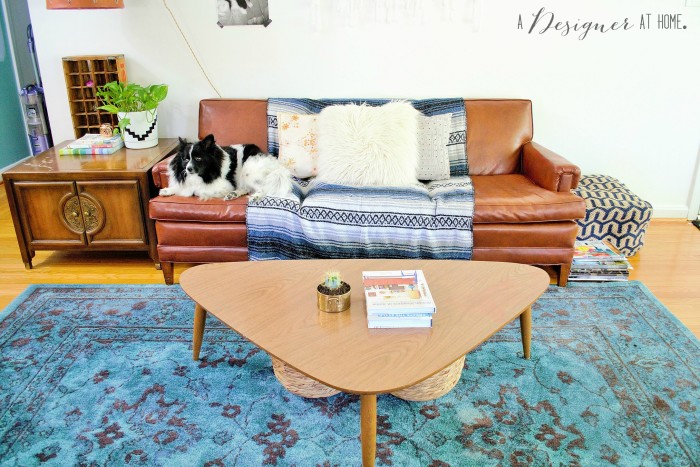 The second piece that's a must in a space with good storage is furniture with cabinets/drawers. You'll see it everywhere right now, people are turning credenzas and dressers into media cabinets. And it's seriously so smart. Even if you don't need storage space for traditional media cabinet things, those cabinets and drawers are perfect for hiding away extra candles, seasonal items, or a dangerously big glass bottle collection. 😉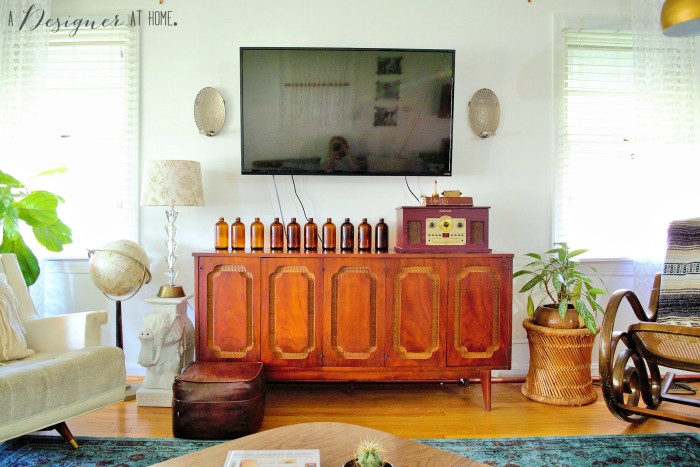 If you've got a spare closet in your living room space you can convert it to a totally functional mudroom space. Even if you don't have school age children, having a mudroom space is super practical. Books, backpacks, jackets- basically anything you may need before leaving you home can be stored neatly and out of sight here. And then at the end of the day, it's a neat place to hide away those things, too. Kim from Hunt & Host shared how she converted her spare closet into a mudroom space. It's so functional and organized. Hooks in a closet is much more practical for me. I do not like battling with a hanger at the end of a cold day.
Another really fabulous idea for families with students is this door organizer. It corrals all those related items into one central location. But obviously is makes a really great utensil station, too! Jamie shares a really great school organization post covering how to use a simple door as a fun way to get organized. All you need is a small section of wall and you've got a great spot for storage in the living room.
A really great idea is to use interesting accent furniture with drawers and/or doors. Like this apothecary cabinet in Mandi of Vintage Revivals' Lofty living room. You could store all sorts of amazing craft supplies in those drawers. Or kitchen utensils. Or DVDs/pictures/etc.
Maximize an empty wall by making custom built ins. Not only will you maximize all that vertical space, but holy hidden storage! You don't have to clean under it and it's custom to fit your needs. Check out all the cabinets in this built in Entertainment Center from Danielle of DIY Danielle.
I think we can all agree that taking an idea from Emily Henderson is probably the best move. This campaign dresser is stunning, but it's also totally practical. Again, taking a beautiful accent piece that doubles as a hideaway for all the unsightly things is a great way to go. This also frees up possibly needed end table storage so she could use this swanky metal wire one. The combination is perfection. Check out all the beautifulness from her Living Room Reveal.
I love Jen's idea for making over a dresser and using it for non clothing storage. The drawers conceal the art supplies but they aren't so deep that art supplies get lost in the depth of the drawer. Jen shared the transformation for this dresser on her blog Fresh Crush.
Michael from Inspired by Charm always has a plethora of good ideas. But I was especially inspired by the built in bookcase shown here in the living room. Even open storage is great storage- for pretty things and unsightly things within baskets and boxes. The whole space can be seen in his post about changing the wall color of this space.
Lory from Designthusiam recently shared a post highlighting 4 reasons you should use your living room. She mentioned that the piece below serves well for holding thank you notes and stationary. That's such a good idea! And a piece like this would work really well for those of use who move from space to space trying to find the right inspiration for our work. The drawers also function to hold gift wrap amongst other things. And it folds up to be out of sight when not in use.
Naturally I can't avoid finding reasons to share beautiful spaces. Here's another one shared by A Cup of Jo- Brooklyn Home Tour. I've always been infatuated with the idea of lining a wall with bookcases. If you can afford to bump out your couch about a foot, why not place some bookcases behind it? The hidden shelves can hold seasonal items and the visible shelves can hold pretty things and more in boxes and baskets. The whole home is absolutely stunning and full of really great ideas.
And last but not leave, wall mounted shelves are a great way to have full control over every element. From style to function to little things like, "how low can I go before my little kid can use this as a ladder?" kind of control. I created these shelves for my living room by "hacking" the IKEA Ekby Lerberg brackets. I'll have the tutorial for them up next week!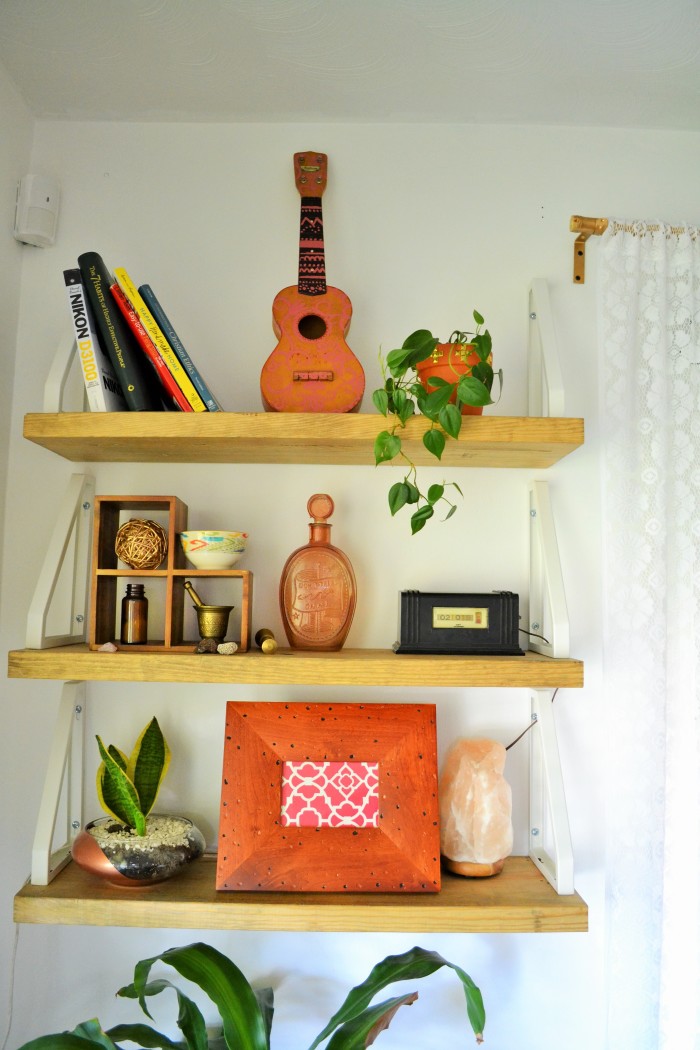 I hope you've found this post helpful and interesting. If you have anything to add to the list, please leave it in the comments below! Leave a link if you have one if you want the tip to be included in Part 2!