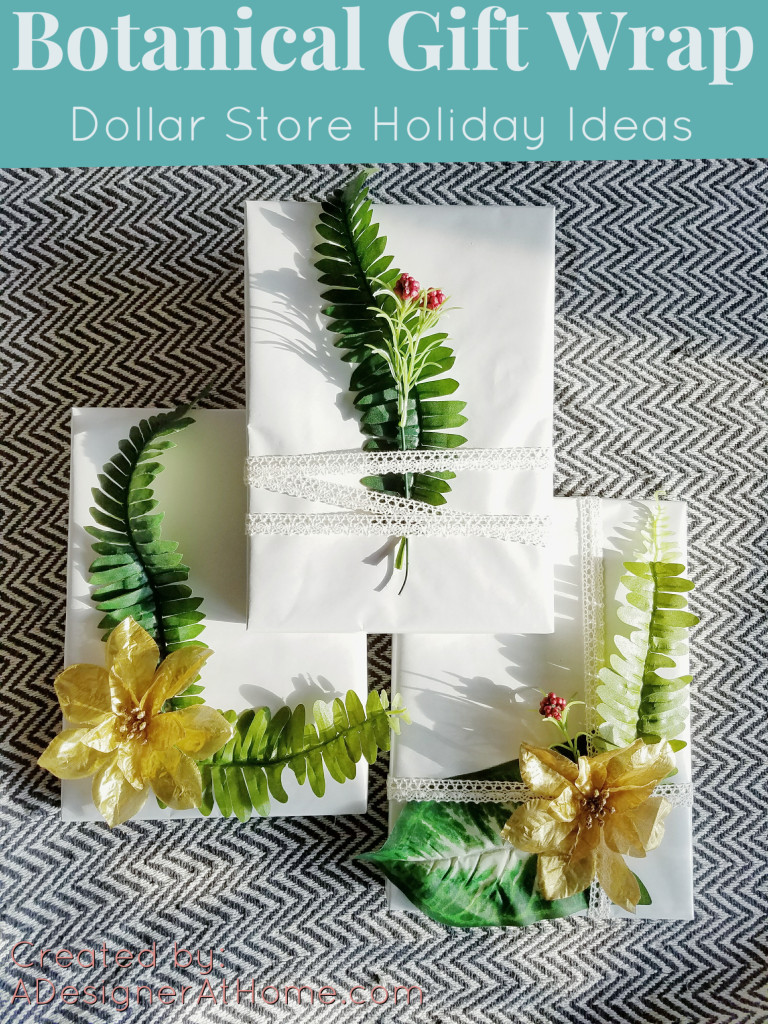 One of my favorite parts of the holiday season is gift wrapping. I love finding unique ways to use materials and really going all out with my choices in gift wrap, bows, ribbon, etc. The past few years, I haven't been very inspired, but this year inspiration struck. With a quick trip to the dollar store, I had everything I needed for these botanical foliage gift wrap ideas.
This post is a collaboration with 6 other bloggers who are using items from the dollar store to create holiday gifts and decor. Visit their projects at the end of this post.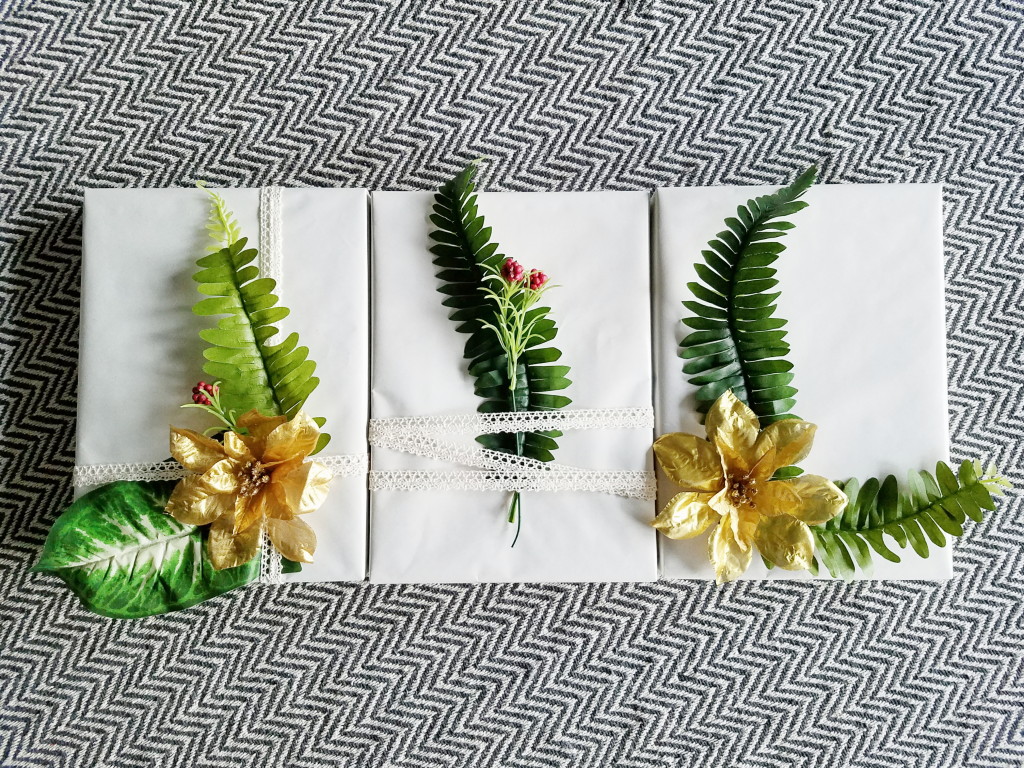 Budget Botanical Gift Wrap Idea

Gold poinsettia floral pick
Fern cluster floral pick
Berries cluster floral pick
Tropical foliage floral pick
White gift wrap
Lace ribbon
Gift boxes
Hot glue
Tape

I created a video tutorial to show how I created three different designs. Hopefully, you'll feel inspired to play around with ideas and come up with more, too.

I made them so it's easy for me to be pretty jazzed about them. But, I really like how they turned out! The poinsettia is the only part that is holiday themed so it can be adapted for a variety of different gift giving situations, too.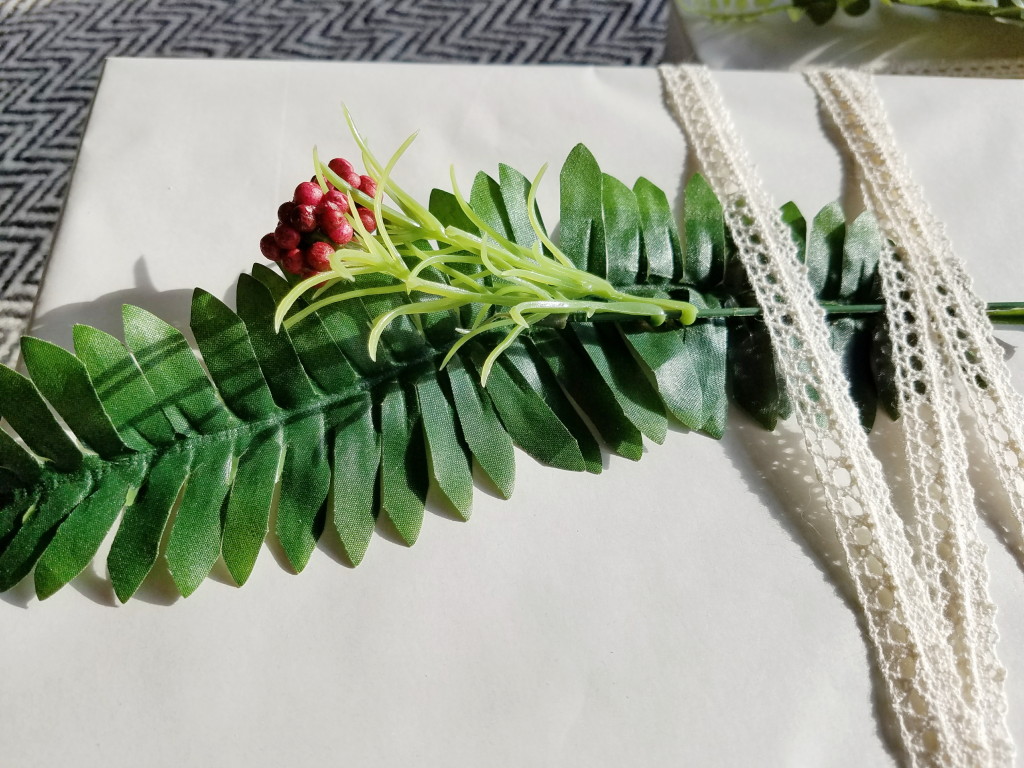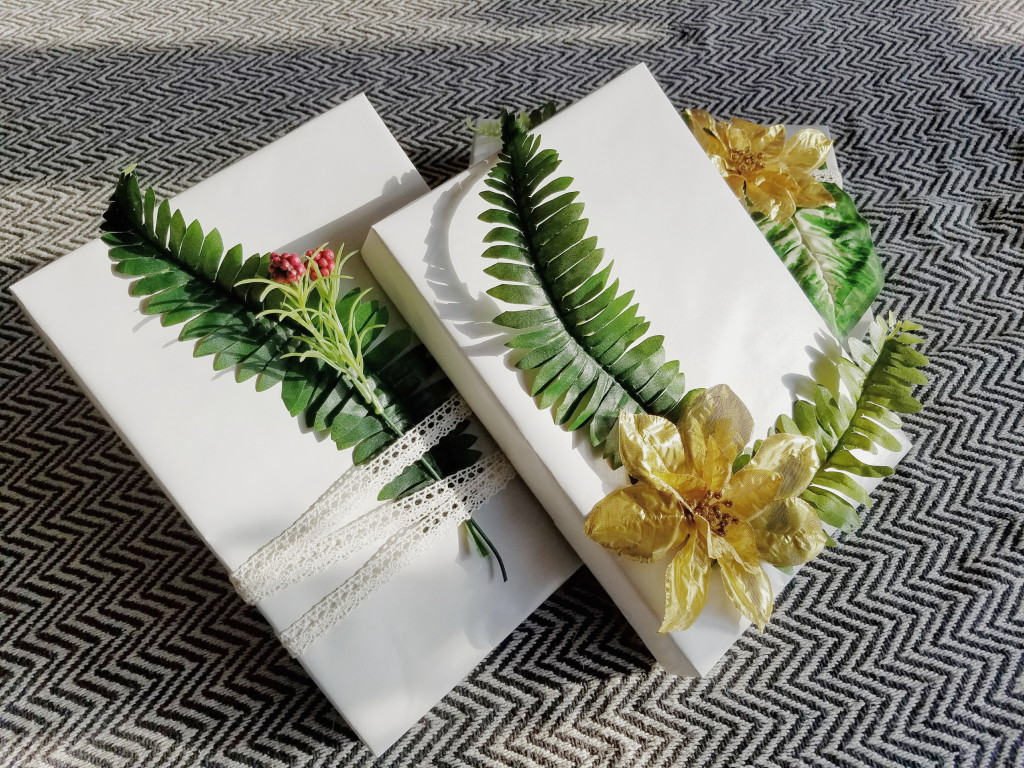 I know finding things in one dollar store at another can be difficult sometimes. The floral section seems to be pretty consistent, but if you are having trouble finding these exact items I have a few alternative material ideas-
Jute twine from hardware section
Burlap from floral section
White ribbon from gift wrap and floral section
Glitter ribbon from the holiday section
Green paper covered floral wire
Craft paper from the mailing section
Other colors in the plain gift wrap
White gift boxes from the holiday section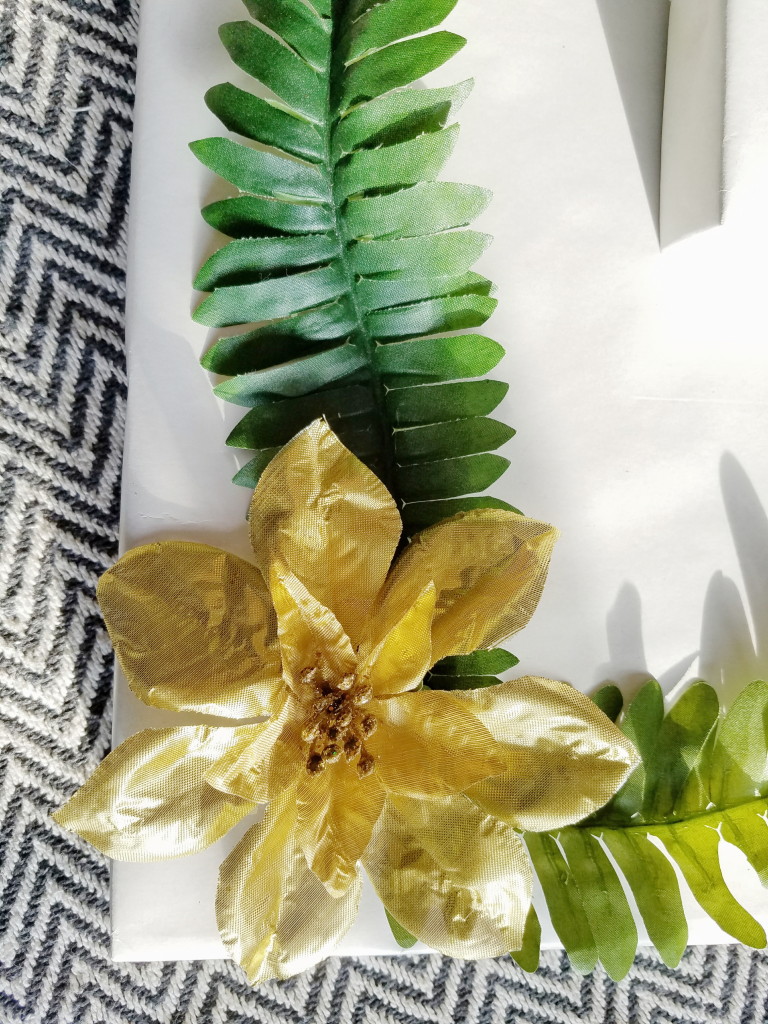 More Dollar Store DIYs
Since you'll already be headed to the dollar store, why not pick up materials for a few more projects? Click on the links below to visit the remainder of the tutorials.
This is our Bliss (Our Host!) – Holiday Placesetting
Hunt & Host – Monogram Gift Wrap
The Organized Mama – Hannukah Decorations
Monica Wants It – Ornament Cluster
A Designer At Home – Botanical Gift Wrap
Southern State of Mind – Tiered Tray
Creative Ramblings – Candy Cane Ornament
And just like that, you've got yourself a really beautiful holiday season and you did it on a budget! Thank you so much for takiing the time to stop by today. See you again soon.