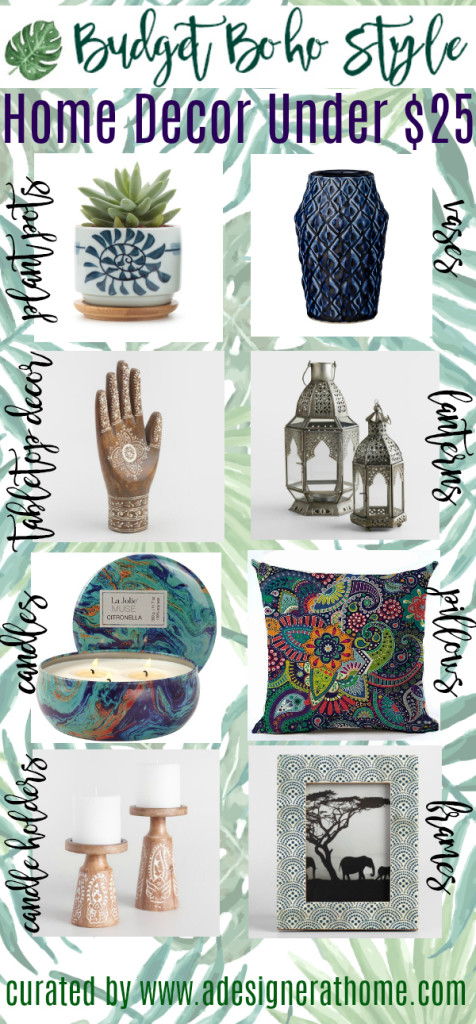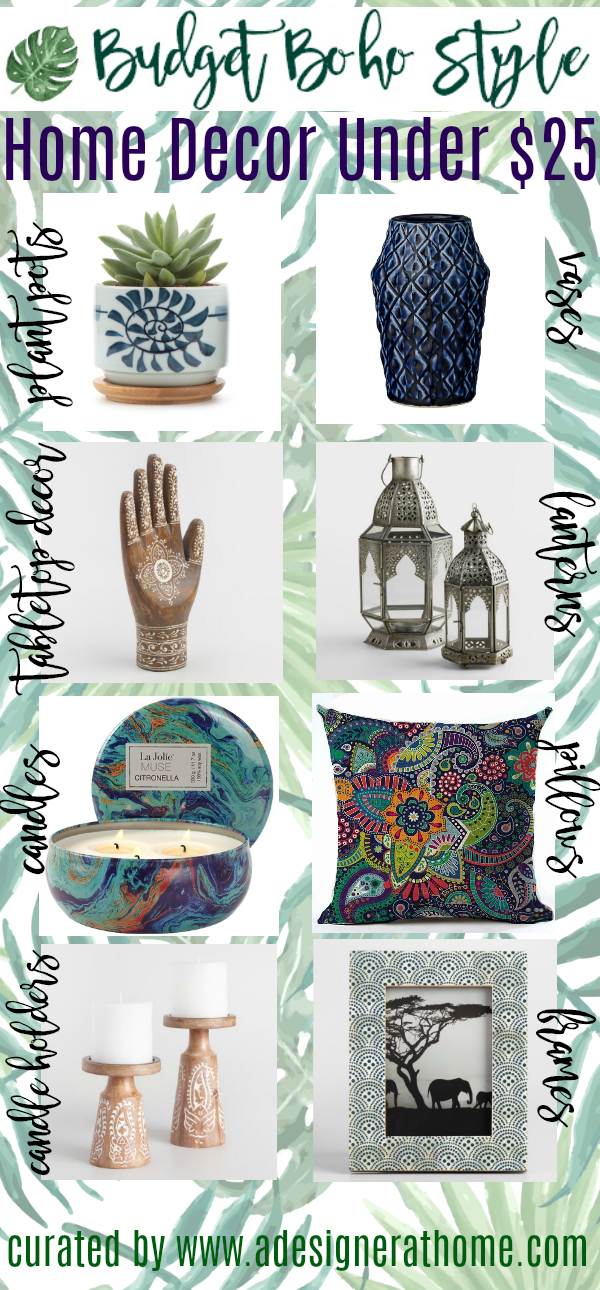 Maybe you've got a shelf that needs filling in or you just want a small change for the sofa. Or, maybe you're feeling like a space is a little lackluster lately and you're wanting a pop of bohemian. Whether you're looking for a small change or are just looking for budget decor options, these home decor pieces will add that boho style.
Below I've broken up the various different types of decor you can find for under $25. Wall decor, throw pillow, throw blankets, candles, candle holders, vases, tabletop decor, planters, frames and lanterns. Click the links to check out mini shopping guides for some of my favorite home decor finds for less than $25.
The walls are a canvas for beautiful things, mementos and memories. Add a handmade and textural touch to the space with a macrame wall hanging. Or bump up practicality with beautiful painted hooks. Maybe you've got a flair for global style and a toran would fit well in the mix. Or keep it simple and bring in art prints with bright colors and motifs reminiscent of classic boho style.
Lounging should be a comfortable experience. Create an inviting seating area with throw pillows made from ethnic materials or add a touch of geometric interest. As long as the pillows are beautiful and comfortable, they'll serve their purpose well.
Blankets may not be practical for home in hotter regions, but they still look fabulous! Bohemian style is all about layering. Drape a throw over the side of a sofa, instantly face lift a tired chair by throwing a blanket over it, or decorate the bed with an extra layer across the foot.
When you find a fabulous little art print, stick it in an equally fabulous frame. Or maybe you're one to appreciate photos of friends and family about. Let your art and photos rest easy in brightly colored frames that compliment your decor.
Candles are a beautiful compliment to a space. Their low light exudes a warm and cozy vibe and their scents fill our senses. Practical and beautiful, candles in reusable tins or free standing pillar atop a candlestick compliment any room. Stick one on your bathroom counter, the dining table, kitchen counter or bedside table.
Tea lights and pillar candles need a beautiful holder in order to take things up a notch. Dainty tealights made to look light flowers, wall sconces to free up table top space, small lanterns to flicker beautiful designs on the walls and pillar candle holders are all ways to bright candles into a space in a beautiful way. They also make it easy to keep multiple candles about in a space without looking stale.
Lanterns are an interesting way of adding height and dimension to a space. You can hang them and fill them with a candle or plant. Or you can stick them on tables. Good decor involves varying heights and depths and lanterns are a beautiful way of achieving that.
They're absolutely necessary aren't they? Plants need a place to live and that instantly makes them perfect candidates for decor. You could choose a simpler one to stick in a hanging planter or painted ones for a pop of color or subtle textural ones for a pretty yet subdued look.
Garden clippings make a space feel homey and lived in. Give those clippings a beautiful vessel to be displayed in proudly. Not a gardener? Faux leaves, store bought blooms and pothos clippings all look especially divine. Go for a bold vase with simpler clippings and a neutral vase to let brighter and bolder clippings shine.
Fill the inbetween spaces with beautiful tabletop decor. A carved hand doubles and jewelry display, a painted trinket dish can work to house keys, and sometimes let a little impracticality enter a space and simply put out some pretty pieces that don't serve a purpose.