Today is reveal day for the New Year New Room Refresh Challenge. And I'm happy to say my dining room is looking beyond refreshed! There's a few things I just have to have in every space of my home because they make my soul happy and fill me with energy. Plants are the main one. Something about their life brings me life. I enjoy caring for them, looking at them, living with them. Naturally green ends up being a major color in every space I design but I have also long loved the color pink and it's various shades because it compliments green so well. Being a lifelong obsessee over the beach and tropical locations, that lust trickles into spaces through prints, wicker and specificallly in this place the wallpaper. I've also been infatuated with midcentury furniture since we bought out 1950's built home. Thrifting always has a place in my heart thanks to a poor childhood and even moreso in my adult life as I've dicosvered it to be the best way to find unique, story infused decor. A sense of airiness, a lot of bohemian style, eclectic vibes and a little influence from the trending cali style and that wraps up my dining room!
As is normally the case with these kinds of things, I'll explain things a bit further later since the post will be so picture heavy. Leave questions and comments in the form at the end of the post so I can make sure I've covered everything you're curious about

Once more, before we dive into things, here's the moodboard I originally shared: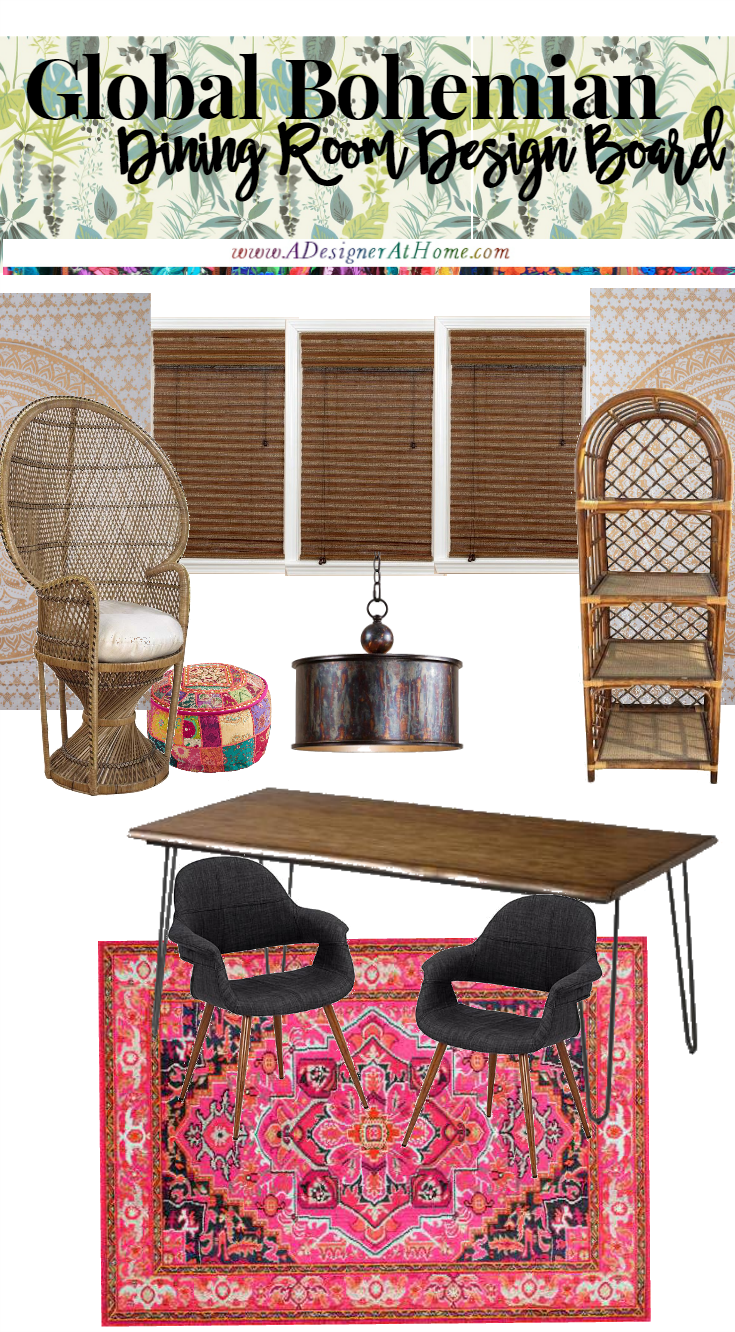 My Airy Bohemian Dining Room
Described as "feels like a jungle" by my husband. I think it has a bit of "cali vibes" going on. My kid likes the carpet.
Pink and Green | Tropical and Modern | Global and Thrifted | Dining Room | Airy Bohemian Dining Room Decor | Eclectic Boho Cali Style
As a reminder, here's the weekly work I'd forecasted:
week 1: Clear Room, Wallpaper, Thrift Furniture and Accessories, Rehome/Donate/Sell whatever isn't staying
week 2: Touch up Paint, Refinish Table, Hang Curtains
I ended up not doing any of these things. I found the table on craigslist on a whim and decided it fit the vibe of the space better than refinishing the other table. I also decided last minute against curtains. Once the pieces started coming into the room, I felt like the curtains would take away from what was going in so that idea was nixed. I would cross off touch up paint but I left that task up to my husband because he wanted to help. Unfortunately, and you can probably see it in some of the photos, he didn't mix the paint well and he let spots drip. So I have to go back in and sand those down, mix the paint properly and go back over those spots. Oh well
week 3: Hang Artwork, Assemble Furniture Placement
week 4: Reveal!
future work: Complete Trim Work Project, Restain Floors, Built In Half Walls, Adding: Painting the lower part of the walls. I feel like this space would be perfect with a darker color below the wallpaper.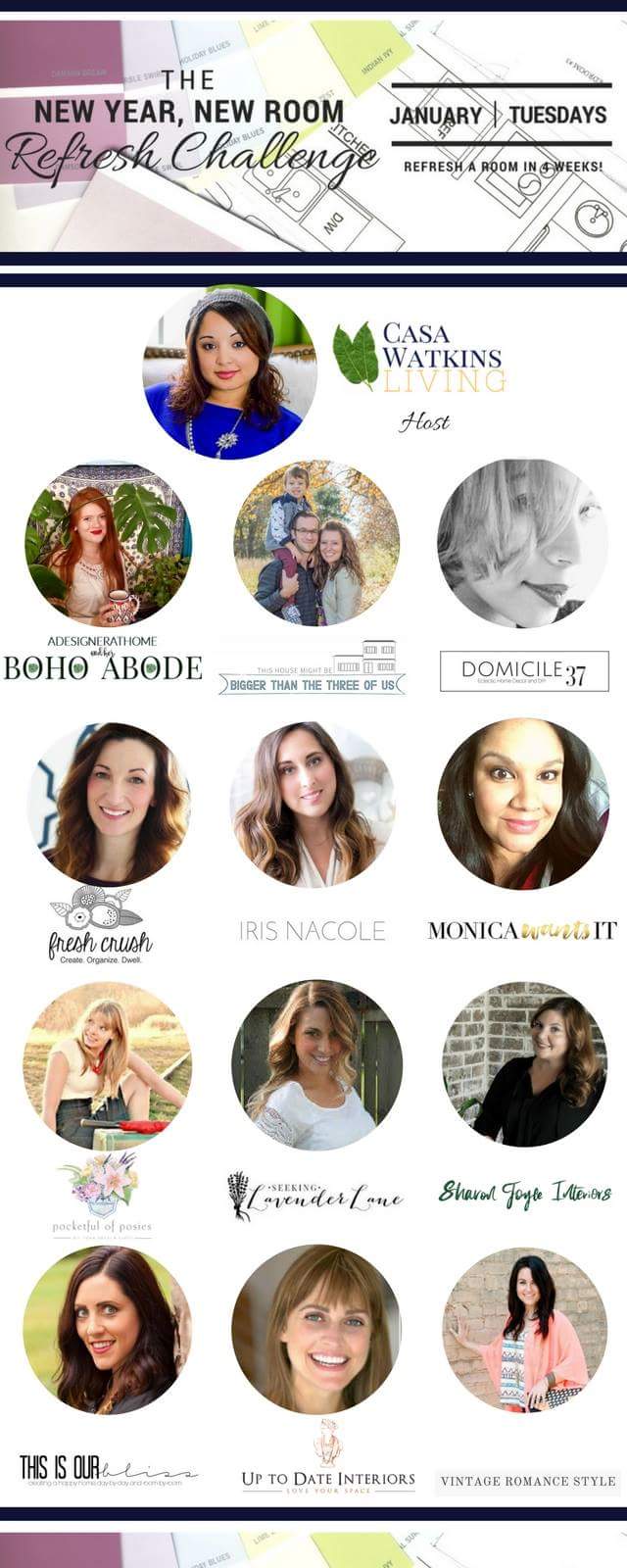 Casa Watkins Living // A Designer At Home // Bigger Than The Three Of Us // Domicile 37 // Fresh Crush // Iris Nacole // Monica Wants It // Pocketful of Posies // Seeking Lavender Lane // Sharon Joyce Interiors // This Is Our Bliss // Up To Date Interiors // Vintage Romance Style
And once again I want to give recognition and thanks to the sponsors of this event. And a special thanks to Stephanie of Casa Watkins Living for hosting and inviting me to participate in this challenge.